Astrid Lindgren
"What tomorrow's world will look like depends largely on the imagination of those who are learning to read."
The Founders

We, the founders, Thomas & Hildegard Hoene, have a family with grown-up children, who in turn have a family with children, a qualified education, a learned profession and their own livelihood. Beyond that, we have more than we need for our own lives. We have gained this through cooperation with others, through learned skills, vocation and commitment, and we want to use it to make a meaningful difference for others who need help. We are supported in this by our family.
We are educated as enlightened people and are therefore able to participate in the social communities surrounding us in many different ways. Through this we have experienced how helpful education and upbringing is in order to do something meaningful in our concrete living environment and thus also fill our own lives with sense.
We are open minded people, have traveled a lot. For us, foreign cultures and philosophies of life, but also misery and poverty, the traces of often man-made catastrophes such as wars, mass destruction, expulsions, terror, violence and exploitation have taught us to see the world with different, wider eyes and to recognize how privileged we live in Central Europe today. But we have also experienced how much good minded people can achieve with the means of reason, mercy and sacrifice on a small and large scale.
On February 03, 2020 the foundation was established within the family. On February 18, 2020 it was recognized by the Stuttgart Regional Council as a foundation with legal capacity under civil law. There it is entered in the publicly accessible foundation register. According to the decision of the Leonberg tax office of May 05, 2021, regarding tax number 70054/42775, the foundation is a non-profit organization according to its statutes and is allowed to issue donation receipts. The current assets of the foundation amount € 500,000. In the year 2022 the foundation spent more than € 250,000 for projects in 8 countries for more thand 100 scholarshipholders and other institutions engaged in education. The chairman of the foundation is Thomas Hoene, chairman of the board Marie-Theres Mayer.
We are only at the beginning, but ambitious. From years of experience in charitable foundation work, we know that all beginnings are difficult. Success comes with small steps that gradually become bigger. We want to achieve a lot, even though we are aware that we cannot change the world on our own. Therefore we are looking for partners at all levels. Anyone who wants to participate can do so
through donations,
Endowments to the foundation capital
dependent trust foundations in which we act as trustee or
as a project partner in current or future funded projects.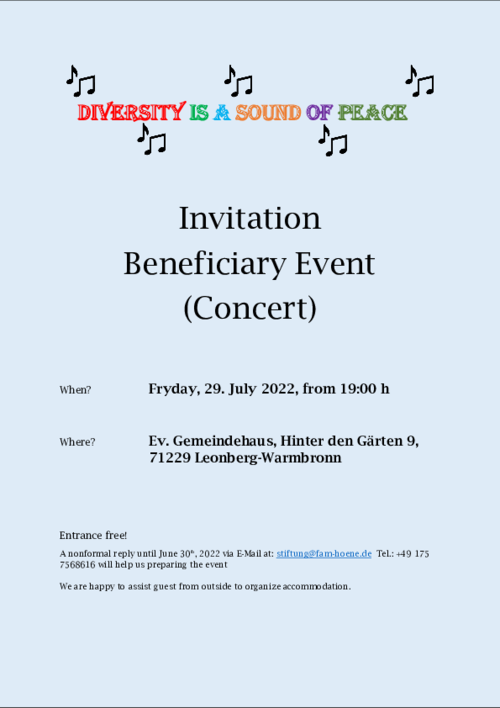 1st Foundation Trip 21 - 30 October 2021 to Israel/Palestine
When someone goes on a trip, they can tell a story
We had actually already given up on being able to travel to Israel and Palestine this year. Due to the pandemic, we had to get permission from the Israeli authorities to enter the country. Hopeful about the recent relaxation, we had booked our flight and accommodation in Jerusalem. Then we received the rejection of our application. Disappointed, we wrote to our friends and partners in Jerusalem that we would unfortunately have to cancel. And they really put their backs into it! The Jerusalem Foundation (Alexander Dubrau) and the Hebrew University in Jerusalem (Prof. Dr. Daniel Schwartz) as well as our friend Marcel Langbeheim pulled out all the stops. Then, a few hours before the departure of the booked flight from Frankfurt a. Main, we finally received an entry permit from the Israeli government. Many thanks to all our friends and partners who made this possible.
Best cared for
We were accommodated in the St. Charles Hospice in Jerusalem. We were warmly welcomed by the eight sisters of the Borromean order who live there and provided us with everything we needed for body and soul. The sisters were happy to welcome guests to the hospice for the first time in 18 months. There had been no pilgrims since then because of the pandemic. The sisters run a kindergarten in the property in the former German colony in Jerusalem, where up to 140 Arab children are looked after every day. Immediately after we landed at Ben Gurion Airport in Tel Aviv, it became clear to us: without our friend Marcel Langbeheim, what we experienced and learned during our nine-day stay in Israel and Palestine would not have been possible. Not only did he take us to all the places and locations where we could meet partners and friends, accompanied by immeasurable knowledge about history and culture, he led us to places, especially in Jerusalem, that we would not have seen otherwise. Together with his wife Tamar and friends, he introduced us with tireless hospitality to Jewish life culture that we had not known before. We would like to take this opportunity to thank him and his wife for all the time and effort they gave us. Not only we personally, but also the Foundation have benefited immeasurably.
Finally seen, spoken to and met in person
During our stay, we were able to meet almost all of our scholarship holders living in Israel/Palestine, with very few exceptions. We were invited to Anata (East Jerusalem) to stay with the families of Mira and Muhanad, Mira's friend Ghada, and Mayar, who is studying in Aachen with her friend Mariam. We learned how cohesion is lived in an Arab family and what Arab hospitality means. We were also guests of Youmna's family in Jabal al Mukabbir (East Jerusalem), and generously entertained and presented with gifts, we got to talk to parents who do everything they can for their five daughters, especially taking care of their education. We visited Afnan and her family, who live right next door to the almost deserted St. Elijah's Greek Orthodox Monastery on Hevron Road in Jerusalem. In addition to her grandmother and fiancé, we also met her brother Hatem, who has just started his medical studies at Al-Quds University and is now applying to us through Al-Quds University for an urgently needed scholarship. We met Elisabeth at the Hassadna Jerusalem Music Conservatory. In the evening after her daily military service, she played two piano pieces by Brahms, her Libeling composer. When do you ever see and hear a solo pianist in uniform playing pieces by Brahms. Her performance transported us mentally into a concert hall. We were thrilled. New ideas on how we can further accompany and support her education came to light so quickly. During our visit to the music academy, we were also allowed to follow a recital by the 20-year-old highly talented clarinettist Noar, also with Ethiopian roots. We want to see if we can help him to get a concert clarinet (type A), which is urgently needed for his further development. At Bethlehem University we met Marian between two lectures. She is on fire with her studies, now microbiology in the new semester. She presented us with a small camel caravan carved out of olive wood by her father, which will embellish our Christmas decorations. Talks with the administration of the university, as well as with the Al-Quds University in Abu Dis, have opened up good prospects for further cooperation. We met Itzik in Tel Aviv in the rooms of Out for Change. He has successfully completed his studies in psychology and is currently working at Out for Change. His future plans are still undetermined. At the moment he is enjoying the freedom. We are in discussion with Out for Change about a grant that will eventually lead to about 15 so-called yotzim, i.e. dropouts from the ultra-Orthodox community, receiving scholarships to finance their studies. We met Aschalaw and Viktoria at Yemin Orde on Mount Carmel near Haifa. It was immediately obvious how closely they are still connected to Yemin Orde; where they - stranded - were taken in and have found a new home. With our support, they are still being looked after as "graduates" through Yemin Orde, even though they are now studying at university in Ariel. In a conversation with the management of the youth village, it became clear how great the need is for the care of the young people even after they have left the village. We will see how we can help further. Finally, we were allowed to visit Avishag. A few weeks ago she became mother to a little daughter Shahari-Ahava. She and her little family are overjoyed. She will spend a few more days with her mother in Jerusalem to recover from the strains of the somewhat complicated birth. But her thoughts are already on continuing her music studies at the Maquamat Academy for Eastern Music. She was able to play a few pieces for us on her viola with high virtuosity.
"Good Neighbours Program" at HUJI
We were invited by the Hebrew University to a meeting on Mount Scopus. There, from the Mandel building, we could see with our own eyes how real and close the impression of divergence between life in Issawiya and studying on Mount Scopus is. This divergence was the trigger for the creation of the project. From very impressive presentations by the university administration and the active players in the "Good Neighbours Programme", as the project is now called, we learned about the extraordinary and successful efforts of the university, together with the Mandel School, to give as many Palestinians as possible from Issawiya and from East Jerusalem in general the chance to participate in the educational and study programme of the Hebrew University of Jerusalem. We are very pleased that the joint sponsorship programme of the Mandel School and the T+H Hoene Foundation has now been extended to eight scholarship holders for the academic year 2021/2022, which has already begun.
Support for gifted children of Ethiopian immigrants
We were very impressed by the intensive commitment of volunteers and students as well as the high willingness to learn of eager-to-learn children and young people from Ethiopian immigrant families within the framework of the joint project with the Jerusalem Foundation. Once a week in the afternoon, the children come to the grounds of the Hebrew University in Jerusalem and are intensively supervised and supported, both in groups and individually, to achieve the best possible school-leaving qualifications.
Benefit concert on 29 July 2022 in Leonberg-Warmbronn

On Friday, 29 July 2022, we held our first event in the Protestant parish hall in Leonberg-Warmbronn, HInter den Gärten 7, namely a benefit concert with artists from among our scholarship holders supplemented by a choir from our town. In this context, we were also able to present our foundation and its work to date. The motto of the event was "Diversity is a sound of peace". The event was a complete success. The hall was filled to capacity. Both the Minchor der Sinfreu(n)de Warmbronn and above all Elisabeth Gebremedihn, our scholarship holder from Jerusalem on the piano, were able to inspire the audience, as were the pieces by Naor Equba (clarinet) and Avishag Neriya (viola), which were recorded on video. We are particularly pleased that our Foundation's work, presented for the first time in public at an event, met with so much support. Many of the guests did not want to miss the opportunity to help us realise our projects with small as well as large donations. In the end, about € 20,000 in donations were collected as a result of this event. Many thanks to all donors, but also to all those who contributed to the success of this event. We want more to follow.
2nd Foundation Trip to Tanzania and Uganda from 07 to 20 November 2022

The impressions of this trip to the "green" continent still move us very much. We are attaching our travel report as a download.
"If we want to achieve true peace in the world, we must start with the children."
Mahatma Gandhi