Astrid Lindgren
"What tomorrow's world will look like depends largely on the imagination of those who are learning to read."
The Founders

We, the founders, are a family: parents with four grown children, all four married with their own children and all in a learned profession. This is our true wealth. From this, and from the more than that what we need to live, which we have gained through working with others, through learned skills, profession and commitment, we want to donate sense for others who need help.
We are educated as enlightened people and are therefore able to participate in the social communities surrounding us in many different ways. Through this we have experienced how helpful education and upbringing is in order to do something meaningful in our concrete living environment and thus also fill our own lives with sense.
We are open minded people, have traveled a lot. For us, foreign cultures and philosophies of life, but also misery and poverty, the traces of often man-made catastrophes such as wars, mass destruction, expulsions, terror, violence and exploitation have taught us to see the world with different, wider eyes and to recognize how privileged we live in Central Europe today. But we have also experienced how much good minded people can achieve with the means of reason, mercy and sacrifice on a small and large scale.
On February 03, 2020 the foundation was established within the family. On February 18, 2020 it was recognized by the Stuttgart Regional Council as a foundation with legal capacity under civil law. There it is entered in the publicly accessible foundation register. According to the decision of the Leonberg tax office of May 05, 2021, regarding tax number 70054/42775, the foundation is a non-profit organization according to its statutes and is allowed to issue donation receipts. The current assets of the foundation amount € 500,000. The chairman of the foundation is Thomas Hoene, chairman of the board Marie-Theres Mayer.
We are only at the beginning, but ambitious. From years of experience in charitable foundation work, we know that all beginnings are difficult. Success comes with small steps that gradually become bigger. We want to achieve a lot, even though we are aware that we cannot change the world on our own. Therefore we are looking for partners at all levels. Anyone who wants to participate can do so
through donations,
Endowments to the foundation capital
dependent trust foundations in which we act as trustee or
as a project partner in current or future funded projects.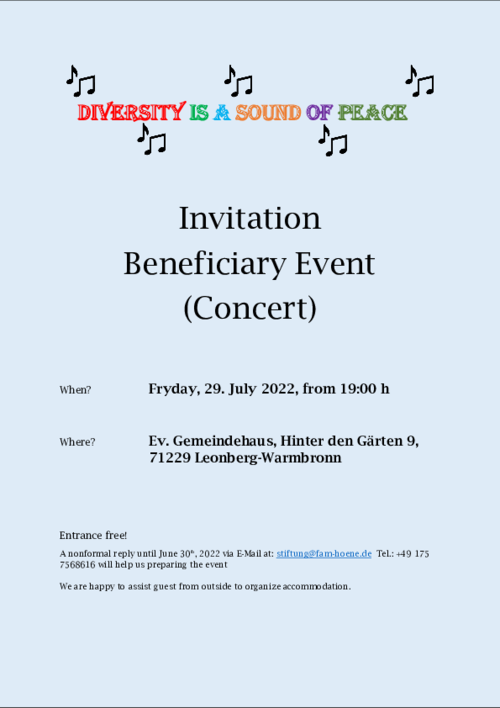 Benefit concert on 29 July 2022 in Leonberg-Warmbronn
On Friday, July 29, 2022, we will hold our first event in Leonberg-Warmbronn in the rooms of the Protestant parish hall, Hinter den Gärten 7, from 7 pm; a benefit concert with artists from the circle of our scholarship holders supplemented by a choir from Warmbronn. Occasionally we will present our foundation and its work so far. The motto of the event is "Diversity is a sound of peace". We hope that many of our friends will come. The artists and their excellent contributions to the program will care about that it will be worthwile to join.
"If we want to achieve true peace in the world, we must start with the children."
Mahatma Gandhi